Sale!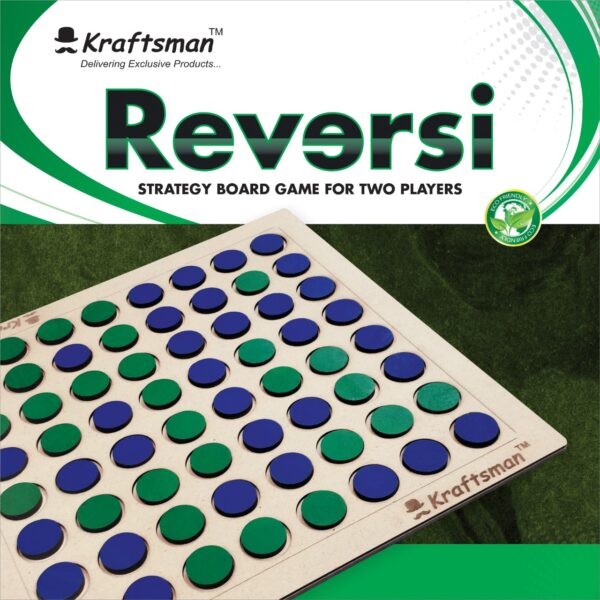 Wooden Reversi Board Game | 2 Players Board Game for All Age Groups
100% Made up of with pine wood. These quality board games make for great fun for kids and their friends! Wish these were around when you were a kid? Well, relive the good old days, but this time enjoy the experience of indoor gaming with your friends and family member anywhere anytime.

The lead can change the color with the flip of the disks easily. The cloth pouch will help you safe guard the disks of the game. These are sure to spark young imaginations. Share the fun you had as a kid with the next generation and make them go play inside or outside.

Provides an active way of learning Science, Technology, Engineering and Mathematics. Develops Engineering Skills, Analytical Skills, Creativity & Imagination, Organizing & Structuring, Logical Reasoning, Hand-Eye-Co-ordination and Fine Motor Skills. Best Educational Toy, Puzzle, Game, DIY Kit, Building Set, Birthday Gift for Teens or any age groups.

Kids will learn Chess or Checkers games on the same board. Best party game/traveling game of all occasions and friends and family members for indoor outdoor play.

Handcrafted by highly experienced woodworkers. This classic Othello board game is a strategic game that is played internationally. The challenging game involves two players, who compete to flip the disks to occupy the board with their chosen colour. It is the perfect game for exercising the brain while enjoying leisure time.
Description
The Kraftsman's Reversi board game is a strategic game that is played internationally. This challenging game is played between 2 players, who have to compete against each other to flip the disks to occupy the board with the maximum number of disks with their chosen color. This is one of the best games for brain exercising and enjoying your leisure time with your friends and family members.
FEATURES:
– Eco-Friendly material – Wooden Toys
– Ergonomic for all ages
– Safe and Durable
– Perfect gift for kids, as well as grown men!
– Good reason to take your kids away from gadgets
– Wow effect for everybody using it!
The best party game/traveling toy of all times.
Only logged in customers who have purchased this product may leave a review.