Sale!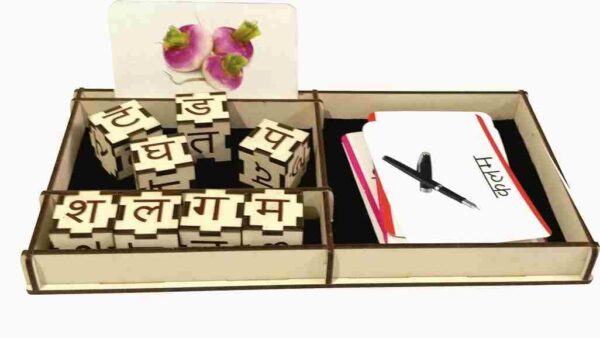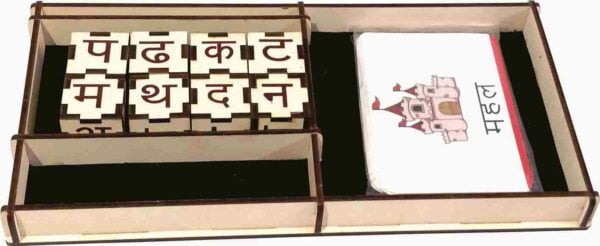 Kraftsman Wooden Hindi Shabd Gyan | Hindi Learning Game with Flash Cards | Educational Toys
Four Ways to Play:
Mode 1: Use just the flashcards to test the child's vocabulary.
Mode 2: Insert the card in the wood block tray with the correct spelling covered. Use the wood blocks to spell the correct word.
Mode 3: Use the blocks to spell out the words, and have the kids find the correct flash card.
Mode 4: Place the card in the wood block so that the correct spelling is visible Let the child match the spelling on the card and read it out loud.
Description
Early School Hindi Shad Gyan, Hindi  Learning Games and Vocabulary Word building Blocks Toy – Your little one will learn new Hindi words, and have fun while doing it.
Safe and Durable: The spelling game is made of high-quality, non-toxic, kids-friendly wooden materials. 100% the Same for Kids.
Make Learning Fun –
This educational learning game for toddlers is great for teaching Early Hindi words.
Use the flashcards and let your kids identify the object on the card and use the blocks to spell the words. A beginner, can just copy the letters and learn the object, or you can place the flashcards in the tray to hide the spelling, for advanced Hindi learning.
22pcs double-sided Hindi Words Flashcards, 44 objects to identify and learn the spelling through them such as animals, food, etc., and 8 wooden dice blocks. Easy for kids to understand and recall the consonants printed on each side of the dice, building up their confidence and stimulating their passion for Hindi learning.
Kraftsman, The brand you can trust for the best quality puzzles and board games.
We bring to you fun-filled board games, puzzles, educational products, etc to entertain your growing children while they learn and shine.
Only logged in customers who have purchased this product may leave a review.