Sale!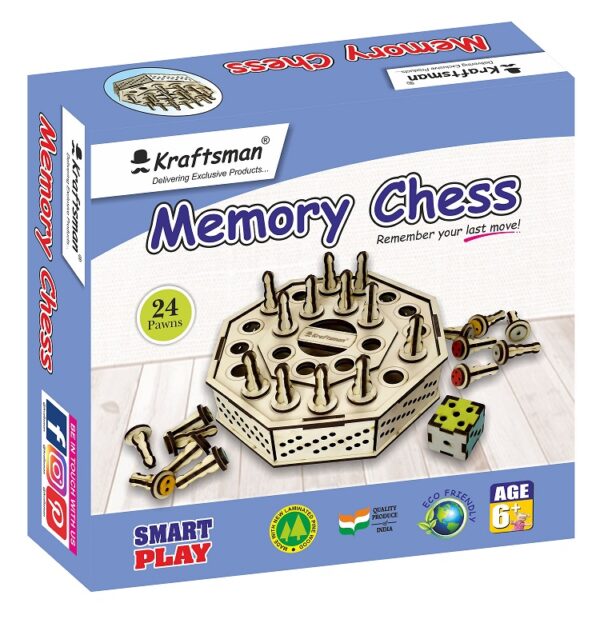 Wooden Memory Chess Game for Kids | Color Memory Chess Game | Educational Toy | Brain Training Board Game
Made with Engineered pine wood.
Beautifully designed pawns and wooden dice. no plastic is used in any components of the game.
Kids will learn to create strategies to play with the opponent's mind.
The game itself is a wooden box to keep the pawns and wooden dice in the tray. The tray will keep your game safe and easy to carry along with you anytime anywhere.
You can play while recognizing the color of the dice or by number. The pawns have the colors and numbers combinations, that will let you play with colors matching or by number matching from the dice.
Description
The memory Chess game is presented by Kraftsman for your kids, the body of the game is prepared from high-quality engineered pine wood, and there is no use of plastic and artificial substances that are harmful to your kid's health. More importantly, the game is fully manufactured in India under the Make in India scheme, which directly contributes to the Indian economy.
Wooden Memory Chess Game Components
The game consists of 24 pawns and dice. All you need to do is just place them on the color side of the game and throw the dice and look for the matched color according to the number of your dice. So simple, to play and the game is having several benefits and advantages to the physical and brain health of your kid. The game will help your kids to remember the numbers and memorize the colors with their names. It will help them in the future and for educational purposes as well.
How to play Wooden Memory Chess Game
Just place all 24 pawns' color side down on the board. Then roll the dice to find out the matched color pawn from the board or maybe the number of your dice. Remember your last move to collect the maximum number of matched pawns and win the game.
Kraftsman, The brand you can trust for the best quality puzzles and board games.
We bring to you fun-filled board games, puzzles, educational products, etc to entertain your growing children while they learn and shine.
Additional information
| | |
| --- | --- |
| Weight | 350 g |
| Dimensions | 20 × 21 × 5.5 cm |
Only logged in customers who have purchased this product may leave a review.