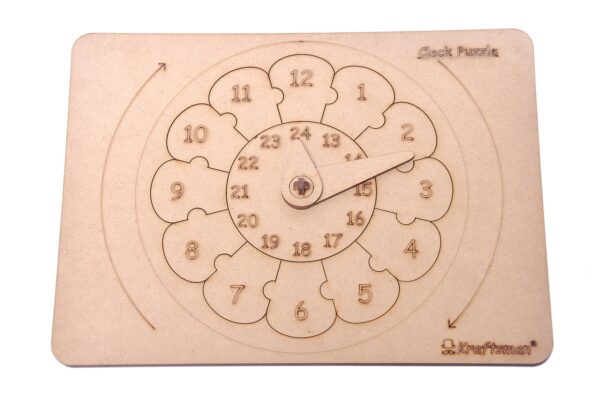 Kraftsman 24 Hour and Minutes Clock Learning Puzzle Board | Color kit included
₹399.00
Made up of Engineered wood

Minute and hour hands rotate in both directions.
24 hours format clock system.
Kids can color the puzzle pieces and play forever.
Sketch pen color set included.
Description
Parents always struggle with their kids to let them learn the clock system. This puzzle board will help you to let your kids learn 24 hours and minutes of the clock system along with clock number positioning.
Kids can learn and recall the minute and hour hand by using a physical clock learning board. They will learn 24 hours format of the clock system as well. Kids can also color them in their own way to be more excited and fun.
The board has the clock numbers as cutouts as puzzle pieces and Minute and Hour hands also rotate in either direction. Help your kids to learn the entire clock system easily and quickly with our fun activities puzzle boards.
The sketch colors are also provided along with the pack of the puzzle boards. So help your kids to learn and identify the objects and also to color them with their own imagination.
Only logged in customers who have purchased this product may leave a review.